Maui 2002
We took a short vacation to Maui the last part of February, 2002. Before we got used to the time difference, we rented bicycles from the Haleakala Bike Company and they drove us to the top of the dormant Haleakala volcano to see the sunrise and then bike down. It is a 27 mile bike ride all down hill. We had our hands on the brakes most of the time.

We stayed in a condominium, the Hono Kai at Ma'alaea harbor. There was not enough surf for boogie boarding, but the snorkeling was great. We also took the ferry to the island of Lanai and Pat went snorkeling there.

One day we took a ride on the sugar cane train and had a barbecue dinner and were entertained by paniolos. "Paniolo" is the Hawaiian word for cowboy. It comes from the word Espaņol. The original Hawaiian cowboys came from Spain and "Espaņol" got changed to Paniolo by the Hawaiians.

To view a picture, click on it. Use the back function of your browser to get back to this page.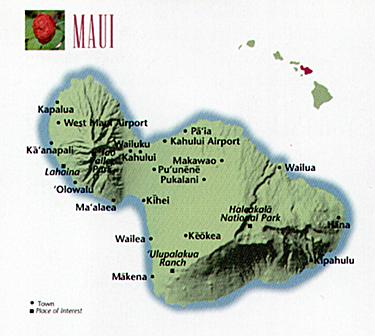 Return to Sandynpat's home page
This page was created with the help of ArcSoft PhotoBase.