Click on an image to enlarge it. You can view the enlarged images by following the previous and next links.
| | |
| --- | --- |
| ... | |
| Honoring our dear friend Al, brought four of our past ministers together at MCCSD; | while George having his picture put on the Wall of Honor added pride to our church. What a blessing they are to all. |
| ... | |
| We love our little old dog and older cat. Yukio has had his 2nd bout with cancer a different kind -- more aggressive. | Annie's kidneys are still bad so we have been giving 100cc of subcutaneous fluids to her -- over 3 years of this now. We lost the fight in December so now we are down to 1 pet. We miss her terribly. |
| | |
| --- | --- |
| | |
| We decided to attend more live plays so we got season tickets to the Diversionary Theater and the San Diego Opera. Which presented a happy coincidence of having Pat's school friend, Mary Olch from Maryland, join us for Wagner's Tannhauser. | We also had Payton, Angel, and Lisa visit us from Washington State. They were revisiting southern California, MCCSD, and Disneyland. |
| ... | ... |
| In March, we went to Italy -- Florence and Rome. Pat was an art major and had never been to see the art treasures of Italy. | This was our big trip for her 70th birthday. Time sure flies. |
Pat put together a collage of the art photos we had taken and sent it off to M. K. Campbell, her art teacher and faculty advisor at Denison University in Ohio.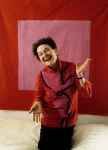 The next day, we got email that she had had a stroke and was in hospice. Pat went to Ohio in September for her memorial service and was told that she looked at that collage everyday until she passed. She kept in touch with so many of her students -- what a dear soul.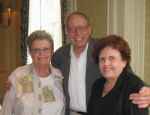 Pat also spent a day with her cousins, Bernie and Linda, and Jim (not pictured).
| | | |
| --- | --- | --- |
| | | |
| We still belong to the Paperweight Clubs and enjoy collecting beautiful glass. | Pat is still learning Swedish from Anne Marie. | Pat, Alan & Lynn Sachrison at the Vasa Crayfish Dinner. |
| Ingrid & others at Pysselgruppen. | Carl & Swedish dancers at Midsummer. | --Ingrid made this outfit for Pat--typical dress of the region of Pat's grandmother. |
| Also, started working with the House of Sweden Pysselgruppen (handicrafts). | Carl Englund is president of the House of Sweden; his wife, Ingrid is talented and | stays active in all the groups. Pat is also active in the HOS as well as Vasa. |
| | We hosted two couples from the Vasa group in Oskarshamn, Sweden. It was our pleasure to show Christer, Gunilla, Gudrun, and Kenneth our beatiful city. | |
| | | |
| --- | --- | --- |
| Sandy taught two classes on the history | of buttons with Frances and Nancy | from the San Diego Button Club. |
| | | |
| Sandy told about Oriental buttons; | Frances, French buttons; and | Nancy covered Grandma's button box. |

In October, we went to City Hall for our Marriage License.

We went back there to participate in the Wedding Ceremony of our dear friends, Nancy and Lea -- together for thirty years.
...
...
We took our annual trek to Oahu, Hawaii and stayed at the home
of the Bixler family--always gracious hosts.
December Nights at Balboa Park, representing the House of Sweden, may do us both in before Christmas even arrives, but Pat is really enjoying rekindling her Swedish roots
In May, the California Supreme Court ruled it was discriminatory for the state not to recognize same-sex marriage. We were thrilled and so were the 18,000 gay and lesbian couples who married as a result. Our marriage took place on our 24th anniversary, September 21, 2008. Reverend Dan Koeshall performed the ceremony with 85 friends and family as witnesses.
But this incredible high was followed by a horrible backlash of discrimination from the Mormon Church of Utah which poured millions of dollars in false advertising into our state. Proposition 8 passed by a very small margin and discrimination was written into our state constitution for the first time.
email address:

Fiji and Australia | Fort Lauderdale | Hawaii 2001 | Kumi's Visit to San Diego | Cruise
Fresno and Santa Cruz | Japan | Sandynpat's Homepage | Denison 40th Reunion
Maui2002| Sweden | Southwest | Kingsburg | Ingalill
Pictures taken in June 2003 | Garden Compass Exotica Dinner
Fresno and Kingsburg | Garden Compass Rose Tour
Florida trip with Nancy and Lea January, 2003 | Kona 2003 | Wendy's wedding
Alaska 2004 | Our 20th Anniversary party | Kailua 2004 | Washington DC 2005
Ingalill 2005 | Kona2005 | Scarsdale Reunion | Shaker Reunion | Kailua06 | Sweden07 | Hawaii 07
Italy08 | Wedding | 2008 Holiday card