Click on any of the following images to enlarge. You can view all the images by clicking the previous and next links.
| | |
| --- | --- |
| | |
| The highlight of the year was the acquisition of our new church home overlooking Mission Bay. | We had the blessing and dedication with a beautiful service on the first Sunday of Advent. Wow, it was terrific. |
| | |
| Pat was honored for her work on the website. She now puts the sermon up so that those who miss don't miss out. | We attended the Pillars Banquet again this year. It is always a joy to spend time with friends. |
| | |
| --- | --- |
| The House of Sweden in Balboa Park has taken a lot of our time this year. Pat is the procurement person and still takes Swedish lessons. We both participate in the pyssellgruppen (craft group) twice a month as well -- nice people and very enjoyable. | Another fun group in our lives is the SDSU retirees. We really enjoyed the St. Patrick's Day trip to Borrego Springs and... |
| ...even brought our little old man, Yukio, along. | There are iron sculptures along one of the roadways. We hadn't seen them before and really enjoyed a leisurely drive with lots of picture taking--awesome. |
The trip was in May and Yukio died of pancreatic cancer in September.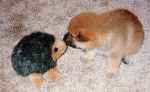 ...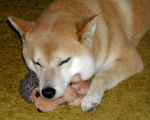 Yukio: 3 weeks old and 14 1/2 years old.
The house seems so empty without him.

| | | |
| --- | --- | --- |
| | It was a real pleasure to have Pat's college roommate, Sue, and her daughter, come to San Diego for a visit. She joined us at church followed by an afternoon at Seaport Village. | |
| When we went to Sacramento for the State Button Show, Sue took us to dinner at The Virgin Sturgeon located on the shore of the Sacramento River. | | We went to the train museum -- cool. Pat enjoyed spending several days with Sue while Nancy, Lea, and Sandy did buttoning. |
| Two of the beautiful sites we saw were the mosaic home near Sue's and | the murals in downtown Tehachapi. | |
| | | |
| --- | --- | --- |
| On the way home, we stopped at the Borax Museum. It took a 190-ton truck to take the place of the original twemty-mule team wagons--so much for progress. | | Sandy brought home lots of buttons and Pat took lots of pictures--good memories. |
Our next big adventure was having solar panels installed. They got them up before we left for Hawaii but didn't get them rolling until we got back. Our first electric bill was only $7.00 -- oh happy day. Then the rains came-- maybe a wind turbine will be in our future.
| | |
| --- | --- |
| When we first arrived in Hawaii for the Kona Coffee Cultural Festival, we watched the Lantern Parade and attended the local talent show where Pat joined in the zumba demonstration (see right). The show included singers, dancers, and Taiko drummers. We had bought a $3 badge which we used throughout the next ten days to attend many other activities. We went to the Holualoa Village Coffee & Art Stroll. | |
| | Also attended the Kona Coffee Recipe Contest which showcased the talents of the island cooks--both amateur and professional. After the judging, we got to taste the delicious foods and awesome desserts--definately worth the $3.00. In addition to the festival activities, Pat went snorkeling while I designed cards for my buttons. We enjoyed the view while lunching at Huggos. |
| We took a trip to Kilauea, the active volcano. We attended a Luau at the King Kamehameha Hotel and did lots of shopping. We went to the Hawaiiana Culture Workshops where we learned to weave with coconut palm leaves. | |
We have had a very busy and exciting year, hope you have, too.
Merry Christmas and Happy New Year to all,
email address:

Fiji and Australia | Fort Lauderdale | Hawaii 2001 | Kumi's Visit to San Diego | Cruise
Fresno and Santa Cruz | Japan | Sandynpat's Homepage | Denison 40th Reunion
Maui2002| Sweden | Southwest | Kingsburg | Ingalill
Pictures taken in June 2003 | Garden Compass Exotica Dinner
Fresno and Kingsburg | Garden Compass Rose Tour|
Florida trip with Nancy and Lea January, 2003 | Kona 2003 | Wendy's wedding
Alaska 2004 | Our 20th Anniversary party | Kailua 2004 | Washington DC 2005
Ingalill 2005 | Kona2005 | Scarsdale Reunion | Shaker Reunion | Kailua06 | Sweden07 | Hawaii07
Italy08 | wedding | Hawaii08 | Sacramento 09 | 2009 Holiday card